Our Products
Catalog
Contact Us
Mobile:0086-18255182566
Tel:0086-55164287663
Email:
sales@sincool.net
Add:China Coal Plaza, Jinggang Road, Hefei, China
Name:
I7 CRONUS
Temperature Range:
-18°C to -24°C
Thermostat:
Digital Temperature Controller
Lighting:
Vertical LED
Expansion Valve:
Danfoss
Fan Motor:
EBM
Voltage/Frequency:
220V/50Hz, 220V/60Hz, 380V/50Hz, 415V/50Hz
Compressor:
Remote Copeland or Bitzer
Shelf Quantity:
Base + 5 Up WIre Shelf
Glass Door:
Triple Glazed Anti-fog
Color:
Custom
PRODUCT DESCRIPTION
Anyone buying meat and sensitive food products buys them not only for their flavour but also their freshness.
The I7 CRONUS multi-deck freezer with glass doors provides temperature stability while conveying a sense of high merchandise value to shoppers, but its design is far from obtrusive. Its easy-access ergonomic hinged doors means opening and closing is a single, enjoyable movement of the hand. The large glass surfaces ensure outstanding product visibility. Fitted with modern thermopane glass, they yield a sustainable reduction in energy consumption and hold down operating costs.
I7 CRONUS glass door freezer is ideally suitable for ice cream and frozen foods.. With the I7 CRONUS glass door freezer, premium products are shown at their best.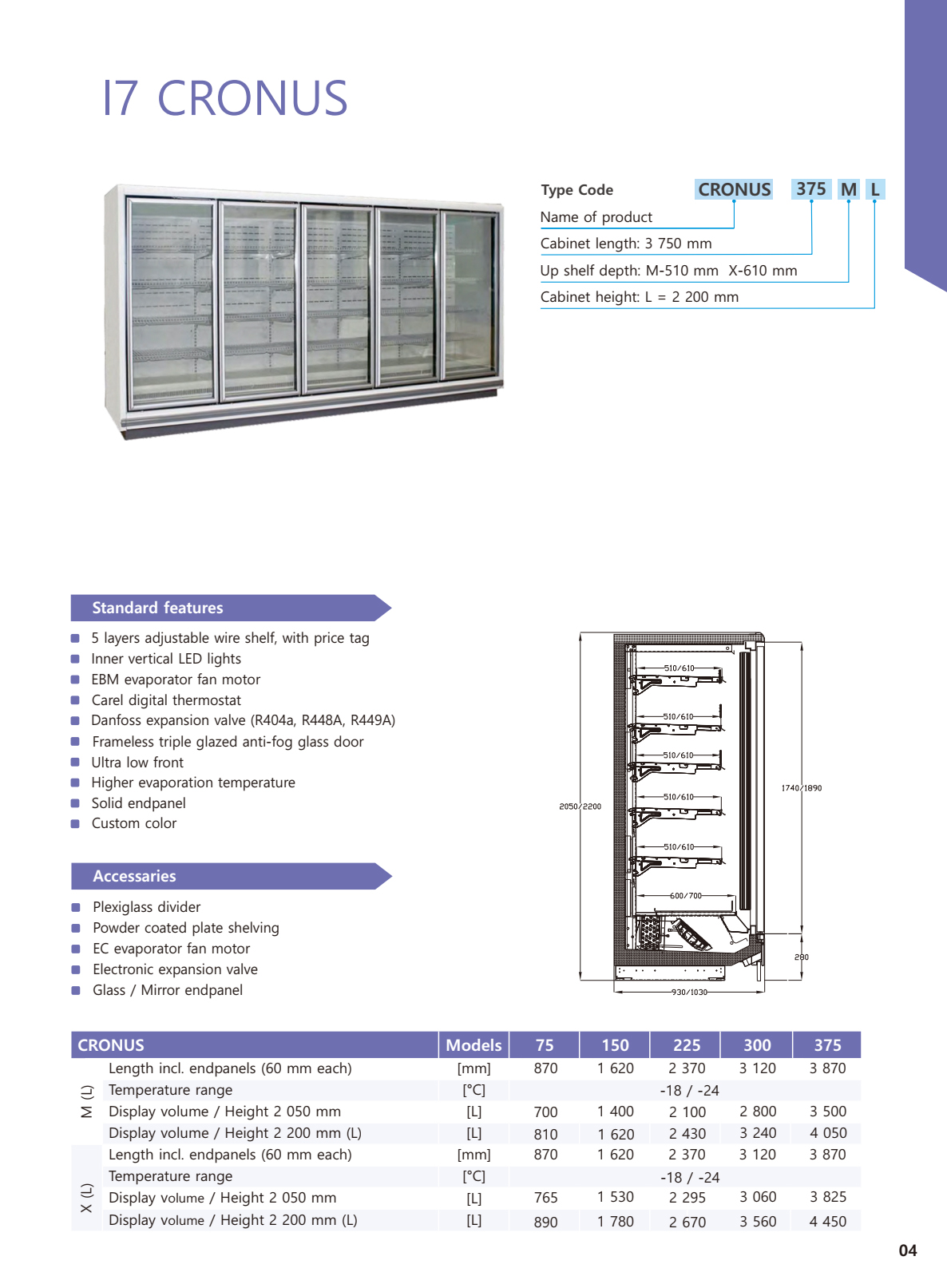 8901 Marmora Road,

Glasgow, D04 89GR.