Our Products
Catalog
Contact Us
Mobile:0086-18255182566
Tel:0086-55164287663
Email:
sales@sincool.net
Add:Room 1907 China Coal Plaza, Jinggang Road, Hefei, China
Name:
I7 CRONUS
Temperature Range:
0°C to +10°C / -18°C to -25°C
Thermostat:
Digital Temperature Controller
Lighting:
Vertical LED
Expansion Valve:
Danfoss
Fan Motor:
EBM
Voltage/Frequency:
220V/50Hz, 220V/60Hz, 380V/50Hz, 415V/50Hz
Compressor:
Remote Copeland or Bitzer
Shelf Quantity:
Base + 4 Up Shelf
Glass Door:
Triple Glazed Anti-fog
Color:
Custom
PRODUCT DESCRIPTION
In today's supermarket, presentation is everything. Products need a setting that shows off the value of the goods. Thanks to the I7 CRONUS multideck glass door freezer, customers will be drawn to a more pleasurable experience, with meat and high-quality fresh produce. The modern glass doors make a significant contribution, highlighting the value of the products and inviting customers to reach in for something fresh.
I7 CRONUS ultra-low front multideck display freezer unites sales-boosting design with greater interior volume, longevity and efficiency, providing supermarkets with critical advantages in attracting customers – all while reducing lifecycle costs.
Specifications: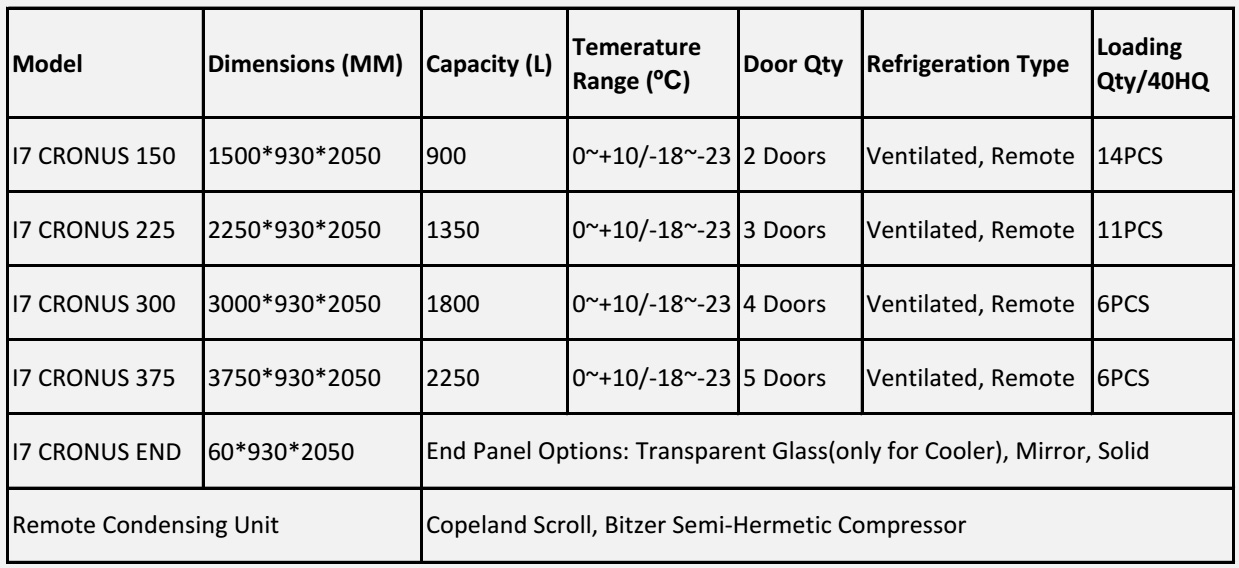 8901 Marmora Road,

Glasgow, D04 89GR.